YOU WILL TRULY LIKE:
Discover the old Capital most amazing temples.
Cycle through the Ayutthaya country side and spend a night with a local family in a Thai traditional house
Jungle survival experience, overnight in a tree house, sleep in a hammock under the stars in the middle of the Khao Sok jungle
Rock climbing on Railey beach and initiation classes to Muay thai.
Visit of the tiger cave temple and the emerald pond.
Exceptional accommodation: Homestay in a Traditional Thai house and Tree House experience in Khao Sok.
International and domestic flights not included. All activities and hotels as referred in your selected package, depending on room availability. Meals included as mentioned: B= breakfast L= lunch D=diner.
* Price based on a 2 person package.
"Voyage inoubliable avec les enfants, mention spéciale pour le cours de cuisine en famille et la nuit dans les arbres !" Sandrine M.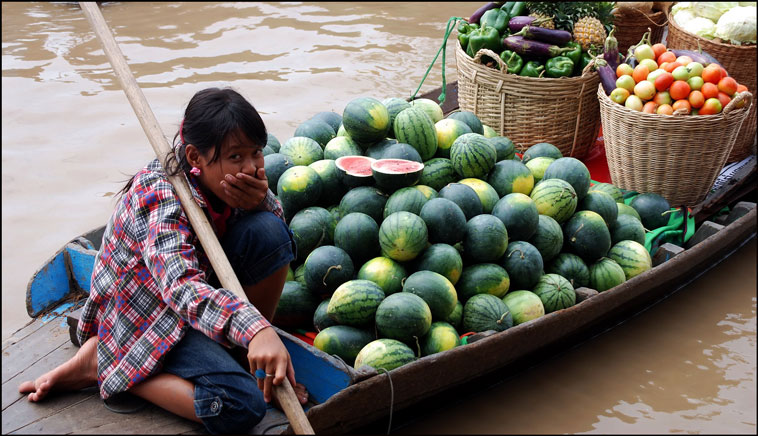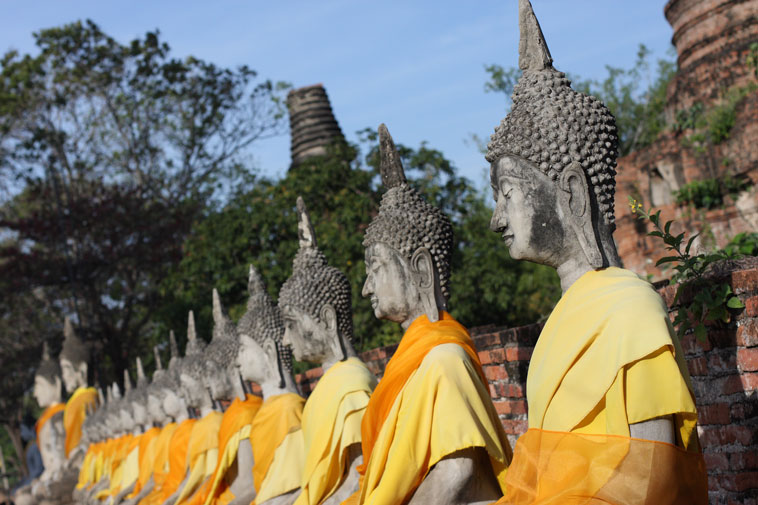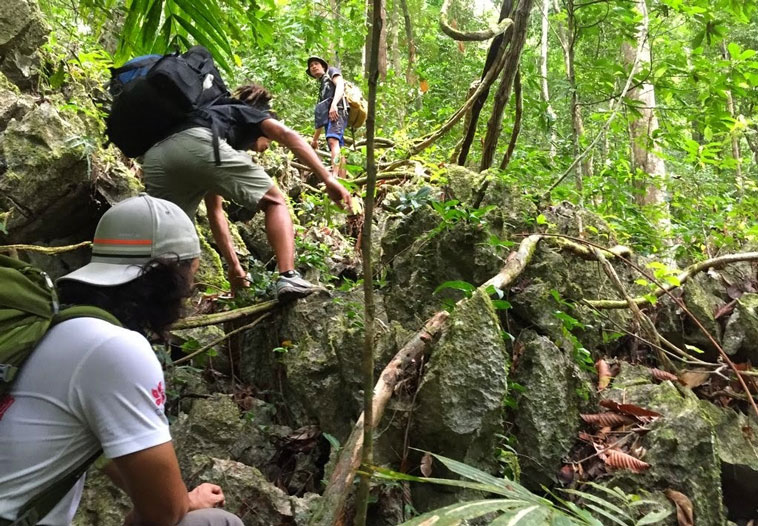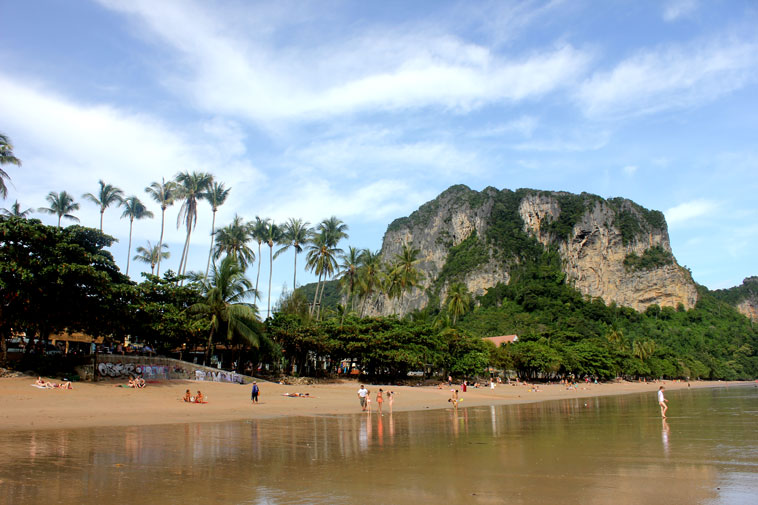 Day 1 : Arrival in the Kingdom of Siam's old capital
You will be welcomed by our friendly driver upon arrival at the Bangkok airport who will bring you to your hotel located in the historical heart of the old capital. This exceptional hotel rich in history, was bestowed by the King Rama V and has been ran by the same family ever since. Evening at leisure.
Overnight at the 'Old Capital Bike Inn Boutique Hotel
Day 2 : Discover the treasures of Bangkok  (B/L)
You will start the day by visiting Bangkok's biggest flower market, surrounded by exotic floral perfumes and pleasant scents you will see plants from all around the Kingdom such as rare exotic jungle orchids, beautiful water lilies and Thai ladies sitting behind stalls confectioning handmade garlands made out of fresh white jasmine flowers. We will also visit Wat Po, one of the capital's most beautiful temple which is well known for its reclining golden Buddha and also for being the cradle of Chinese traditional medicine in South East Asia. We will then take a ferry to cross the Chao Phraya river in order to visit the majestic temple of Dawn (Wat Arun). The temple of Dawn is the capital's oldest temple and marks the beginning of the Rattanakosin era. After this cultural half day trip we will head for Ayutthaya, the kingdom's previous capital. Evening at leisure.
Overnight Night at the Ruen Tubtim Boutique Hotel
Day 3: Experience Ayutthaya on a bicycle (B/L/D)
After a hearty breakfast, you and your guide will hop on a bike to cycle trough Ayutthaya. At the end of the day you will spend the night with your host family in a traditional Thai House. Those 2 days with your host family will help you understand different aspects of the daily life in the Thai countryside and to participate to a community based program giving an income directly to the villagers in need and to discover the beauty of this world heritage city.
Overnight in a traditional Thai house with your host family
Day 4: Culture and religion (B/L)
Just like most of the Thai, we will start the day by giving alms to the monks. What's exceptional here is that the monks are sailing along the canals on traditional wooden boats. After breakfast, you will explore the local village with your english speaking guide to find out more about the villager's daily life. We will then head back to Ayutthaya city passing by small towns with loads of amazing temples on your way dating back to the Khmer Era. In total we will cycle about 94 kilometers trough the Ayutthaya countryside splitted on a two days period.
Overnight at Ruen Tubtim Boutique Hôtel
Day 5 : Arrival at the Khao Sok National Park  (B/D)
Today our driver will escort you to the Bangkok airport where you will catch a flight to Surat Thani. Once arrived at the Surat Thani Airport, you will be welcomed by another driver who will bring you to the Khao Sok National Park where you will stay in a Tree House deep in the jungle at the Khao Sok Paradise Resort, the park's finest Eco lodge. Evening at leisure.
Overnight at the Khao Sok Paradise Resort***
Day 6 : Jungle survival experience (B/L/D)
For those looking for an intense jungle adventure, we have designed a 2 days/1 night jungle survival training conducted by the region's most knowledgeable expert. You will be taught how to hunt, spear fish, collect drinkable water from bamboo stems and different species of vines and how to build a shelter out of leaves, you will also learn about the different medical plant growing in the rain forest.
Overnight in the jungle
Day 7 : Back from the jungle and relaxing massage (B/L/D)
After this intense jungle survival experience, you will be brought back to the Resort where you will enjoy a well-deserved in room Thai traditional massage. Evening at leisure.
Overnight at the Khao Sok Paradise Resort***
Day 8 (B) :  Transfer to Krabi
Today, our driver will bring you to Ao Nang Beach (Krabi Province), where you will stay in a beautiful Resort located on the shores of the crystal blue and pristine Andaman Sea. Enjoy your Resort amenities and swimming pool. Evening at leisure.
Overnight at the Phu Petra Resort***
Days 9 and 10: Muay Thai, initiation to Thai Boxing  (B)
One of the main facets of Thai Culture is Muay Thai or Thai Boxing and is also Thailand's national sport. We will introduce you to Muay Thai trough two sessions of one and a half hour especially designed for beginners. You will train at a camp owned by a former grand champion, all equipment will be provided.
Overnight at the Phu Petra Resort***
Day 11:  Rock climbing at Railay (B)
Krabi is very well known around the world for its beautiful white sandy beaches and for its dramatic lime stone cliffs that were once part of the world's largest coral reef. Today a new challenge is awaiting you, we will try to climb those giant cliffs with the help of experts. Different climbing routes are available for beginners, advanced and professional climbers.
Overnight at the Phu Petra Resort***
Day 12: Day at leisure (B)
Overnight at the Phu Petra Resort or similar hotel depending on the room availability
Day 13: Emerald Pool and Wat Tam Suea  (B/L)
Your guide will pick you early morning to head to the Thung Teao Forest, approximately 65 kilometers away from your Resort, in the north east of Krabi to climb the 1237 steps leading to the tiger cave summit. On your way you might encounter, one of the thousands macaques living on the mountain or meet with the hermit monks who are living in the cave. Once arrived at the top of the cave you will enjoy a 360 degrees view on the old town, ocean and surrounding rain forest. You will also see an amazing giant Buddha worshipped by the local Buddhist community. After this hectic trip we will go and relax in the crystal waters of the nearby Emerald pool nestled in the middle of the Jungle and surrounded by giant trees.
Overnight at the Phu Petra Resort***
Day 14 : Day at leisure In Ao Nang  (B)
Overnight at the Phu Petra Resort***
Day 15 : End of your adventure  (B)
After a hearty breakfast, you will be picked up by our driver who will bring you to the airport. You will go back home with pockets full of sand and you head full off sweet memories.